20 SEPTEMBER 2019
CLOSING EVENT OF THE EU – CHINA SOCIAL PROTECTION REFORM PROJECT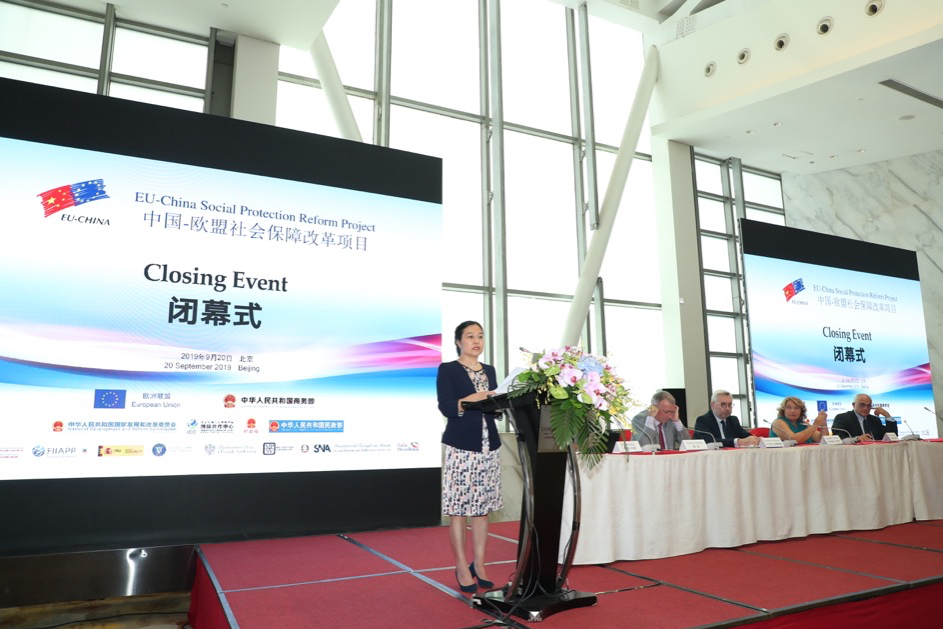 Ms. Cheng Hongying, China Ministry of Commerce MOFCOM, addresses the meeting.

After almost five years of successful operations, the EU-China Social protection reform project SPRP held its final event on 20 September 2019 in the Crowne Plaza Beijing Chaoyang U-Town Hotel. Some 120 participants, at par from Europe and from China, took part in this event placed under the joint sponsorship of the EU Delegation and of the Chinese Ministry of Commerce MOFCOM. The meeting was honoured by the presence of high-level European guests, including the EU Ambassador to China Mr. Nicolas Chapuis, the Director General of the Italian National Social Security Fund INPS Ms. Gabriella di Michele, the Deputy Minister, Ministry of Family, Labour and Social Policy of the Republic of Poland, Deputy Minister, Mr. Kazimierz Kuberski, the President of the Board of Directors, Federal Public Service of Social Security of Belgium, Mr. Peter Samyn, the Secretary of State, Ministry of Labour and Social Justice, Romania, Ms. Elena Solomonesc.

On behalf of the European Consortium, Mr. Massimo Antichi, SPRP project leader, welcomed the participants. During the inaugural session, speeches were delivered by the European side and by the Chinese beneficiaries representing respectively Ministry of Commerce, the National Development and Reform Commission NDRC, the Ministry of Finance MOF and the Ministry of Civil Affairs MOCA.
Each of the project three components then presented the conclusion of their works presenting their respective Results and topics, Activities and deliverables, Pilot and provincial activities, Policy achievements and scientific inputs. The works of the ad hoc task force on Project coherence and synergies were also presented before concluding statements delivered on behalf of both the European and the Chinese sides.
An electronic copy of all project substantive works included in the project Memorabilia was handed over to participants in the closing event. Those are also directly accessible from the Project website. More details on the project closing event can be found HERE.